Seems like Lost Coast was very popular in June. Thought I'd share my experience as well.
This was my very first overlanding trip and Lost Coast looked like an awesome first trip and relatively easy from a technical perspective. I took my daughters with me. I was in my 05 GMC Yukon and my friend came along in an awesome 2wd Vanagon (which is also why we picked Lost Coast).
We drove up from Fresno and met up in Laytonville. We then took the 1 over to the Usal Rd turnoff.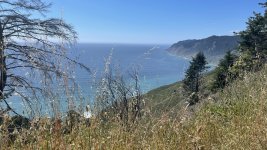 It's a pretty short drive from that turnoff to the campsite, we made it to Usal Campground around 4-5 pm on a Monday and there was plenty of room to camp. Usal campground is really nice, it's awesome to be on the beach but it did get really windy while we were there. Be warned though, there is 1 vault toilet and that's being generous.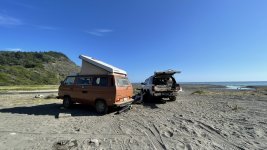 The next morning we headed north with the plan of following the OTG route and going to Needle Rock. But, I have to say, Usal road was pretty darn rough and it was slow going. Much slower than I thought it would be and there was quite a bit of distance to travel. So we skipped Needle Rock and made our way to Shelter Cove.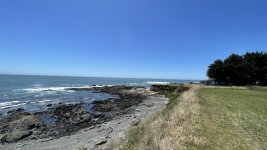 Shelter Cove is absolutely beautiful. We stopped there for a late lunch. There is an campground at Shelter Cove and it's $40 for a tent site that you can accommodate a vehicle. Could be an optional spot to camp for folks depending on how their day is going.
From there we made our north but we realized there was no way we'd make it all the way to Mattole beach. So we stopped at AM Way Campground. AM Way was pretty busy for a Tuesday but we had no trouble getting a spot. The Campground is really nice, and there are showers so bring along some quarters.
Wednesday morning we made our to Mattole Road. The drive east is fine, but the best part is pulling into the Albee campground area. The scenery transitions from the typical gold hillsides and trees to a stunning, dark canopy of beautiful redwood trees. As soon as we drove into the canopy we had to stop and take some pictures. We took a short hike at the Big Trees Day Use Area.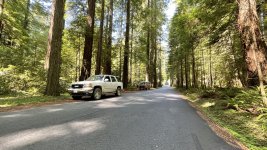 We then we jumped on the 101 and made our way up the Avenue of the Giants.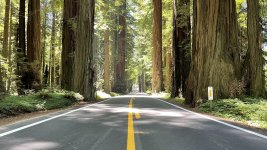 We ended our trip by camping at Hidden Springs Campground. This campground also has showers and the ranger at the pay station swapped out a $5 bill for quarters for us.
We couldn't do the entire route but overall we covered a lot of ground and had a great time. My girls were nervous to go "off-road" but they ended up enjoying that part.
Next time I think I'll plan on spreading out the trip over more days. Driving off road is intense, it required all of my focus to navigate the ruts, divots, and branches. It was taxing to drive that way even for just a few hours, and all of that was in 2wd!
Overall, this was a great first trip and great trip overall. The area is beautiful, and even the drive back home on the 101 had great scenery.
Signing up for OTG was well worth it. I used Gaia GPS and followed Ben's route and discovery points and having a plan and route to follow takes a lot of the stress out of taking a trip like this.