This past July, we set out on the Lost Sierra Trail with the goal of capturing video and turning it into a video route guide (first video to be released very soon!). I've driven (or ridden on my mountain bike) the vast majority of this trail in bits and pieces, but never as one cohesive route. I should not, that I altered the route a bit as I wanted to spice things up and do the section of Poker Flat OHV Trail from Saddleback Mountain to Howland Flat ghost town.
The Crew
Myself and Thomas in the Ram 3500, Ryan + family in their Nissan Xterra, Angie + family in her Xterra, Kiley in his Lexus GX460, Monica and Daniel in her 4runner.
Day 0
We reserved a group site at Hornswoggle Campground near Bullards Bar. It had a ton of room, even though there only ended up being three vehicles that night. Definitely a nice staging area if you plan to hit this trail with a group.
Day 1
Ryan and his family met us at Hornswoggle camp, and then the group was off (myself + Thomas, Kiley, Ryan + fam, Angie + fam). We paralleled the Yuba River along highway 49 until turning off at Cal-Ida. The first 9 or so miles are paved, but immediately you begin to see remnants of the Lost Sierra's mining past. Within the first mile you'll see an old wooden aqueduct or sluice on your right that still carries water from the creek. We'd stop at Saddleback Mountain Lookout, that would be the first of three lookouts we'd visit that weekend. The road up to the lookout is super fun-- steep, loose, a few rocks to spice things up. It's always fun when you get to throw your rig into 4-low. The views atop Saddleback were fantastic, especially since there were no major fires burning in the state at the time! We chatted with Tony who was manning the lookout before heading back down to our rigs. As we were readying to leave, a pair of SxS's pulled up who'd just come from Poker Flat, and informed us we were the first vehicles they'd run into on the trail.
Well, it was off to Poker Flat next. I'd never done this section of Poker flat, but I'd driven the second half from Howland Flat to Quincy-la Porte Road a couple of years back. The descent was super windy, very steep, with some rocky sections. Again, more time spent in 4-low! Mad Martigan (our Ram 3500) handled the creek crossing without batting an eye. The other rigs made it through without any issue as well. We ended up breaking for lunch at the creek, and the kids loved it as they splashed about in the water.
After lunch we'd head up the hill. Things got steep and slippery real fast! Within the first 150 yards of trail, there was a decent amount of water run off, which made it a bit of a challenge to gain traction, especially on one rutted out section that gave many of the rigs a bit of trouble. Kiley was having trouble gaining traction through that section, but we later learned he forgot to engage his center locker, which would explain why his front tire kept spinning and the rear tires failed to gain any traction (it happens to the best of us!). After we made it through the rutted section, the next 3-4 miles were spent in 4-low going up the steep, loose and chunky trail. I'd love to go back and do the entire trial, but I fret the trail isn't wide enough for the ram on one of the creek crossings on the second half of Poker Flat (another reason I decided to reroute the adventure through the first half of poker flat).
At the top of the mountain, Howland Flat Ghost Town was waiting for us. At its peak it was home to several thousand inhabitants, 3 saloons, mercantile shops, a school, post office and hotel. We ended up visiting the old cemetery, which is super spooky. Numerous old buildings still remain spread across the area, and the tailings... the extend for miles and miles along the road towards St Louis bridge. It's absolutely mind boggling how much earth (and destruction) the miners moved in search of gold. For the sake of time, we didn't get out of the vehicles and explore some of the old buildings along the way. I was hoping we'd be able to snag a site along the creek near Old St Louis Bridge, but no surprise, a couple of groups had already set up camp along the creek. We ended up driving out to Pilot Lake and found a few plausible campsites near a rather impressive Christian Summer Camp. We ended up over the hill from the camp along the Slate Creek Diggins-- an open serpentine barren that would provide exquisite views of the night sky.
While enjoying our dinners, we heard the recognizable rumble of what sounded like a 2-stroke engine. A person crested the knoll atop an old ATV pulling a trailer that appeared to be filling with gear. I don't recall the bloke's name, but he was rather personable and informed us he ran the camp on the other wide of the hill. He also informed us that this area was rich with gold, and in fact, a 96 oz gold nugget was found by a local miner at these diggings, and was on display in the Smithsonian (who knows if that's true or not!?). He'd brought along a heavy duty industrial vacuum which he used to suck up the serpentine dirt and topsoil. This would go into a series of plastic 5 gallon buckets, which would then be sorted using a vibrating sluice box to separate the gold ore. He let the kids get into the action and they loved it. He also promised to sift through the kids' collected dirt to see if they'd manage to find any gold in their house-cleaning activities.
We were expecting Daniel to arrive with his friend Monica later that night. Daniel's truck was in the shop, so he was hitching a ride with Monica in her 4Runner. They ended up arriving sometime after 10pm that night, at which point we decided it was time to turn in.
More on Day 2 soon!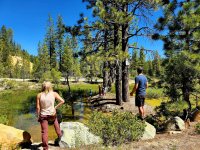 Eureka City Diggings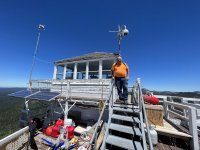 Tony manning the Saddleback Mountain Lookout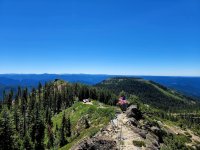 Looking down from Saddleback Mountain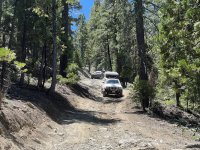 Dropping into Poker Flat OHV Trail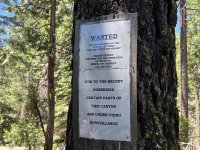 170 years later, robberies are still a problem at Poker Flat!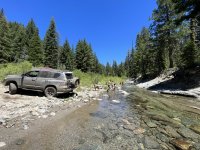 The creek crossing at Poker Flat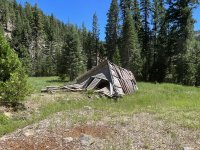 All that's left of Poker Flat mining camp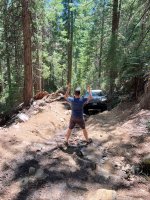 Things get fun along Poker Flat on the way to Howland Flat!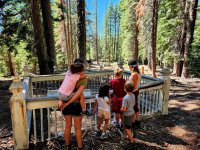 Howland Flat cemetery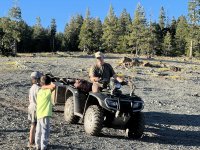 Slate Creek Diggings, there's still gold in these hills!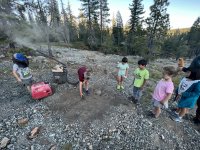 The kids looking for gold to help offset the insane fuel prices in 2022!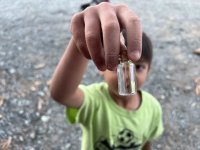 That'll get you .001 gallons of fuel at the local Shell station!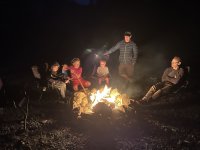 Ghost stories and camp fires!