Just got done with our first proper overland adventure, did the Mojave Road last week. The trip was a total success, happy to report we made it through with zero issues. That being said, it's worth noting that the recent rains and hurricane were very hard on the roads, and some of the portions were more technical than expected. However - any proper 4x4 with decent tires should be able to complete the route, maybe with a modification or two. We ran the route east to west, and spent 3 nights on the trail, with half days at the front and tail ends. Worth noting:
The road through the canyon between Fort Piute and the Piute Corral is in very poor condition. Expect to take that section slowly.
This section of trail to the east of the Bert G Homestead was not passable for us: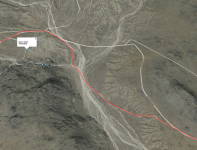 The portion on the eastern end where it meets up with Cedar Canyon Road is extremely rutted, and we decided the risk was not worth the reward and opted to detour around it on Cedar Canyon Road. For sure we would have been bottoming out our vehicles on that portion. My opinion is that you'd need something with significant lift to pass through there without drama. Luckily the detour is very short and it's easy to turn around before the rutted section.
The dry lake bed to the south of Zzyzx is much more of a moist lake bed at the moment, and involved mudding through one water filled low spot. Doable for sure, just worth knowing.
The section to the west of Afton, where the route takes you into the wash has been closed off for restoration. You can simply follow the trail that stays closer to the railroad tracks. That entire wash section just sorta needs to be played by ear - portions of the trail have been taken over by debris or deep sand from the rains. We just did our best to keep heading in the right direction and it all worked out. When in doubt, just follow existing tracks that take you in the general direction you want to go.
We camped at Fort Piute, Mojave Camp, and the last night by the caves in the wash before Afton Campground. All three were wonderful places to camp. The path to the caves was sketchy but passable, just required a little patience and spotting.
Overall, a total blast, would highly recommend!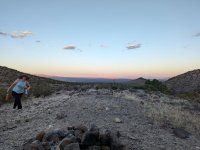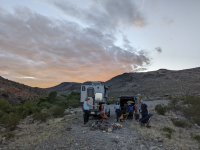 -Sky