Hey folks,
We're working with a few designers to finally get the Adventure Badges listed on our marketplace by the end of the month. Here's an general idea of the design aesthetic we're looking to create: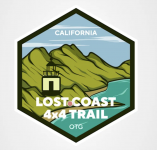 We're still trying to figure out which routes will be featured in the first batch, but it's likely to include 6 of the following:
Lost Coast
Death Valley
Mojave Road
White Rim Trail
Alvord Desert + Owyhee Canyonlands
Black Rock Desert
Joshua Tree
Tahoe Backcountry Discovery Trail
Whipsaw Trail
???