This past June, we led a small group of folks for a Trail Run Event in the Smith River National Recreation Area, right on the CA-OR border. We ended up doing the "heart" of the trail, but had to skip out on many of the out-and-back side adventures due to time. Smith River NRA really is a fantastic area, and has a bit of everything: from technical trails (McGrew Trail), incredible views, tons of river front access, and the red rock serpentine mountain slopes creates an out of world experience.
Day 1
Unfortunately, I had made the mistake of thinking my 6yo's final day of kindergarten was on Wednesday but it turned out to be Thursday. I wasn't able to depart the Bay Area until around 12:30pm, while the group would meet in Crescent City at 10am on Thursday. We figured thing out, and the group would depart and head to Sourdough Camp and we'd meet them at camp. We ended up making it to dirt in Smith River around 9pm, but it we didn't reach camp until sometime after 11pm. It was bittersweet rolling into camp, as we'd missed out on some fantastic views looking at some of the photos of others in camp. Chris
@Chris Lujan
, Kelly
@Mutt Wagon
, Michel
@Lexa_Overland
, George, and Steve
@Steve H
were all in camp, while Daniel
@DPurdy85
, Joey and I rolled in.
Chris who was in the early group, managed to catch some photos on the way to Sourdough camp. Let me just say that Sourdough Camp is amazing, but you'll need a 4x4 vehicle to get down to camp. The camp is in a big clearing surrounded by large oaks and conifer, and the north fork running adjacent to camp. This place would be magical on your typical warm summer day!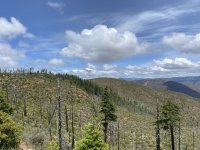 by
@Chris Lujan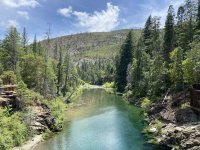 North Fork Smith River by @Chris Lujan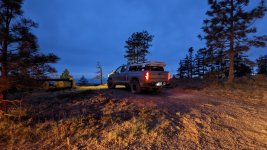 Daniel airing down on our way to camp with a view of the Pacific.
DAY 2 - RAIN ALL DAY
We knew there was rain in forecast, but it called for showers. Fine-- a few showers here and there wouldn't be an issue. Well wouldn't you know, we'd be in for the full Gasquet treatment (Gasquet pulls in around 95" of rain on an average year), meaning it was going to rain all day. Because of the rain, we spent a lot of time trying to stay dry-- aka driving in the vehicles all day. One the way out of Sourdough Camp, we made a quick stop at the entrance of the McGrew. Because of the steady rain, Daniel wasn't able to find any takers to go on the trail with him. Quite honestly, this was probably a smart call, as serpentine gets super slippery when wet. There probably would've been a lot of bumping and bashing had they gone in this weather-- next time!
Most of the trails/roads in Smith River NRA are in pretty good condition, where a stock Subaru wouldn't have much issue. The Wimer Road is not one such trail! While not technical, it's got a solid 10 miles of serpentine rocks that will keep speedometer hovering around 5-8mph. The mist filled the rain soaked red canyons and evergreen rainforest-- the soft light was also perfect for photos!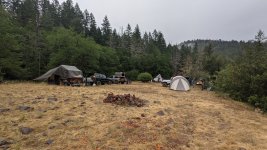 Sourdough Camp, just across the OR border.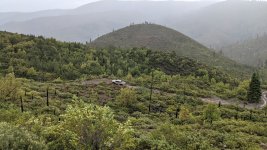 George Driving up the Mountain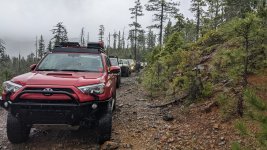 Trying to stay dry during our lunch break



This photo pretty much sums up day 2. @Lexa_Overland having a bit of fun!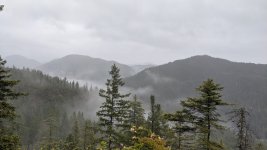 The rain and mist always works magic when in the Pacific Northwest!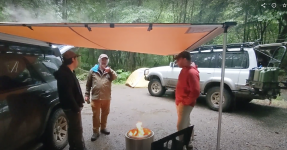 We ended up camping in a nice secluded spot under the trees not too far from Hurdy Gurdy Creek. We ended up crowding under Steve's pull out awning in an effort to stay dry and warm. It turned out to be quite the experience as the rain kept on coming!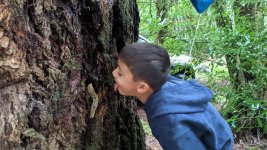 Thomas loved all the critters in this camp. There were quite possibly hundreds of millipedes, and a dozen or so banana slugs slowing making their way through the damp loam and undergrowth.

I'll post up info on day 3 later this week