This past June, we led a small group of folks for a Trail Run Event in the Smith River National Recreation Area, right on the CA-OR border. We ended up doing the "heart" of the trail, but had to skip out on many of the out-and-back side adventures due to time. Smith River NRA really is a fantastic area, and has a bit of everything: from technical trails (McGrew Trail), incredible views, tons of river front access, and the red rock serpentine mountain slopes creates an out of world experience.
Day 1
Unfortunately, I had made the mistake of thinking my 6yo's final day of kindergarten was on Wednesday but it turned out to be Thursday. I wasn't able to depart the Bay Area until around 12:30pm, while the group would meet in Crescent City at 10am on Thursday. We figured thing out, and the group would depart and head to Sourdough Camp and we'd meet them at camp. We ended up making it to dirt in Smith River around 9pm, but it we didn't reach camp until sometime after 11pm. It was bittersweet rolling into camp, as we'd missed out on some fantastic views looking at some of the photos of others in camp. Chris
@Chris Lujan
, Kelly
@Mutt Wagon
, Michel
@Lexa_Overland
, George, and Steve
@Steve H
were all in camp, while Daniel
@DPurdy85
, Joey and I rolled in.
Chris who was in the early group, managed to catch some photos on the way to Sourdough camp. Let me just say that Sourdough Camp is amazing, but you'll need a 4x4 vehicle to get down to camp. The camp is in a big clearing surrounded by large oaks and conifer, and the north fork running adjacent to camp. This place would be magical on your typical warm summer day!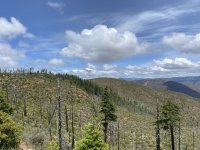 by
@Chris Lujan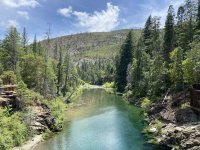 North Fork Smith River by @Chris Lujan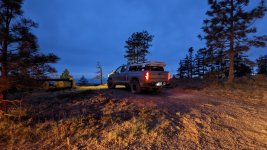 Daniel airing down on our way to camp with a view of the Pacific.
DAY 2 - RAIN ALL DAY
We knew there was rain in forecast, but it called for showers. Fine-- a few showers here and there wouldn't be an issue. Well wouldn't you know, we'd be in for the full Gasquet treatment (Gasquet pulls in around 95" of rain on an average year), meaning it was going to rain all day. Because of the rain, we spent a lot of time trying to stay dry-- aka driving in the vehicles all day. One the way out of Sourdough Camp, we made a quick stop at the entrance of the McGrew. Because of the steady rain, Daniel wasn't able to find any takers to go on the trail with him. Quite honestly, this was probably a smart call, as serpentine gets super slippery when wet. There probably would've been a lot of bumping and bashing had they gone in this weather-- next time!
Most of the trails/roads in Smith River NRA are in pretty good condition, where a stock Subaru wouldn't have much issue. The Wimer Road is not one such trail! While not technical, it's got a solid 10 miles of serpentine rocks that will keep speedometer hovering around 5-8mph. The mist filled the rain soaked red canyons and evergreen rainforest-- the soft light was also perfect for photos!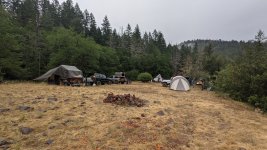 Sourdough Camp, just across the OR border.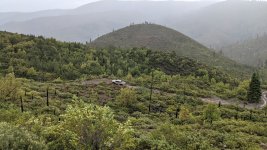 George Driving up the Mountain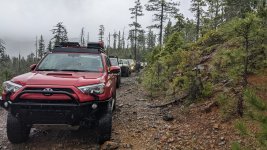 Trying to stay dry during our lunch break



This photo pretty much sums up day 2. @Lexa_Overland having a bit of fun!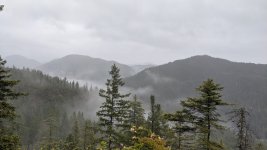 The rain and mist always works magic when in the Pacific Northwest!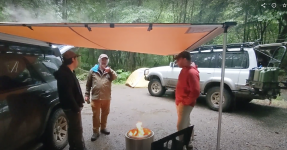 We ended up camping in a nice secluded spot under the trees not too far from Hurdy Gurdy Creek. We ended up crowding under Steve's pull out awning in an effort to stay dry and warm. It turned out to be quite the experience as the rain kept on coming!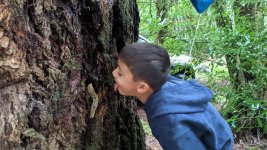 Thomas loved all the critters in this camp. There were quite possibly hundreds of millipedes, and a dozen or so banana slugs slowing making their way through the damp loam and undergrowth.
Day 3
After a full day of steady rain on day 2, the crew was delighted to see the sun's rays illuminating and peaking through the emerald canopy above us. The clouds had given way to mostly blue skies and the warms temperatures invigorated the group to break camp and get on the trail for another day of adventuring. We made quick stop at one of the day use areas along Hurdy Gurdy Creek, which also happens to be designed as a Wild and Scenic River (major tributary of the Smith). While nowhere near the size of the North or Main fork of the Smith, Hurdy Gurdy really is a pleasant stream with clear water and plenty of places to go swimming.
We'd retrace our tracks to do a nice little loop to Bear Basin Butte Lookout and Ship Mountain Lookout. Given the amount of precipitation the mountains see here (one of the wettest places in CA, where annual rainfall often exceeds 100"), the forest service has taken an interesting approach to maintaining their forest service roads, which I assume is due to the barrage of winter storms that hit these mountains. The roads aren't graded, but rather use a mixture of dirt and stone that is pummeled and flattened into a pseudo gravel-asphault like surface. I assume this is because a dirt road left in its natural state would quickly deteriorate into a morass of ruts and washouts. There were a couple of steep pitches where the road remained in its raw state, but most of this section of the route had the improved gravel-asphault like surface I've described-- which is suitable for a Sprinter or Subaru to tackle (I certainly wouldn't take those type of vehicles on Wimer Road!)
The trail from our camp lazily climbed the rugged slopes of the Klamath Mountains, before really picking up. Across the canyon, perched high above our shelf ride sat an ominous lookout atop a darkened ridge. I wondered if it was Bear Butte Basin, but that didn't seem correct given our location on the map. I hadn't studied the map closely in the morning, so I wasn't exactly sure what this mytserious lookout was, or if we'd visit it. The gravel-top gave way to raw dirt roads, and the include really picked up-- to the point many of us switched in 4-low. Eventually our planned route led us to a tidy locked gate. It looks like we'd need to walk the remainder 3/4 of a mile or so up to Bear Butte Basin. The group ascended up the remaining hill to Bear Butte Basin. Despite the lack of travelers we'd encountered in the backcountry, we were pleasantly surprised to see a couple working at the lookout. They'd been up there for quite some time, and it turns out they'd been contracted by the forest service to help refurbish the lookout. At the moment, they were actively engaged in repainting the lookout, with tarps and paint gains lain about the rocky outcropping where the lookout is perched. I took the opportunity to launch the drone and capture some nice aerial videos and photos. My 6yo Thomas waited impatiently for me to finish with the drone so he could take me on a personal tour of the lookout and surrounding area. He managed to take me over to the actual Bear Basin Butte, which is a bit treacherous with his 100+ foot drop off, but also rather spectacular. The views from atop Bear Butte Basin are some of the best in the Smith River NRA.
After spending a good 20-30 minutes at Bear Butte Basin, the group descended the dirt road back to our vehicles. Views, views, and more views, and then that lookout I'd seen earlier showed up on my map. I totally forgot about Ship Mountain! As we steadily closed in on Ship Mountain, the red sloped serpentine mountainsides made for an alien-like experience. It's almost as if trees had sprouted on Mars. The contrast of red against the clouds and trees is a rather sublime experience to say the least-- even more so when the red rocks are polished with fresh rain. I informed the group via my trusty Beofeng radio that we'd be checking out Ship Mountain Lookout. The road to Ship Mountain is much steeper but shorter. There's a gate, but the hike to the top is less than 150 yards. Unlike Bear Butte Basin, Ship Mountain's lookout is a modern masterpiece. I think it even had doublepained windows that appeared they were maybe a couple of years old at best. Nobody was working the lookout that day, but it was easily the nicest lookout I'd ever come across! I wouldn't mind staying at this one for a couple of nights or a few weeks (hint hint Six Rivers NF). Since our cars were much closer to the lookout we also used the opportunity to break for lunch, and of course some more drone flying! F
From Ship Mountain we were able to descend rather quickly down to the end of our route, but now what? I had offered the opportunity to take a stab at Rattlesnake Ridge, which is a mildly technical OHV trail. After spending a lot of hours behind the wheel on day 2, the group decided our time would be better spent relaxing at camp, ideally next to a river! And with that bit of info, I adjusted our itinerary to make a short-stop at the iconic Forks of Smith, and then figure out our camping situation. If you're ever up in the Crescent City Area, making a quick trip to the Forks of Smith is well worth it! Once you've arrived at the parking lot, it's about a 5-7 minute walk to the rocks, where the emerald waters of the South Fork and Main Fork converge. This was my third visit to the Forks of Smith since February, but the awesomeness of standing out on the rocks right where the two currents collide creates a sense of rejuvenation. The rest of group loved it and took a ton of photos. Kelly's partner even find a nice little spot to go wading.
The last order of the day would be finding a suitable campsite. Securing a riverfront or lakefront campsite in California on a Saturday evening is typically near impossible. Well good thing we were far away from the crowds! I decided we'd take our first crack at Ruby Van Deventer County Park about a 5 mile drive down the road. And what'd you know? We were able to secure three riverfront sites on the edge of the redwoods! Thomas, Daniel and myself all made a beeline for the river. The Smith was calm and cool, but so was the surrounding area. Given our proximity to the coast, the sky was overcast from coastal fog. We probably would've spent more time in the river in the temps were warmer instead of the mid 60s. We enjoyed our dinners, retold stories from the previous days and adventures around the campfire, and in the morning we broke camp and headed back south to the Bay Area, but not before Daniel and I had made a pact to revisit the McGrew Trail and Sourdough camp at some point in the near future-- 2022 maybe?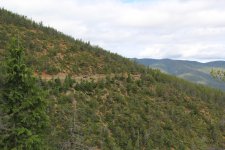 Shelf road on the way to Bear Butte Basin.
Thomas atop Bear Butte Basin.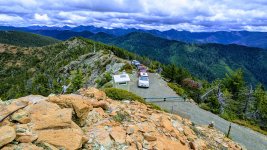 Looking down from Ship Mountain.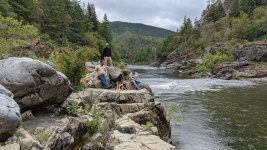 Forks of Smith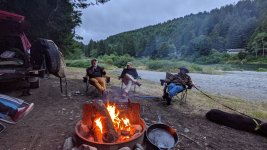 Riverfront camping along the Smith
Last edited: