OTG offers a variety of different geo-encoded file types to work with the vast array of apps and mobile navigational devices currently on the market. This help article should give you an idea of which file type is best suited for your app and/or device.
Gaia GPS and GPX Files
As of Feb 2022, the OTG team is in the process of converting all GPX files to work with Gaia GPS map icons (like you see below). If the download page contains a Gaia icon next to the GPX file, this means the GPX file has been to import Gaia's custom map icons. If you don't see the Gaia GPS icon next to the download link, you can still upload the GPS file, but the map icons will all show as red markers.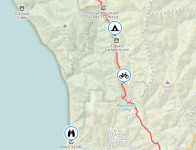 Digital Mapping Files for OnX, Garmin Overlander, and Other Products
GPX files are the most commonly used geo-encoded files, and it's what we recommend our customers use for all platforms outside of Google Maps.
Google Maps & KMZ Files
We don't recommend using Google My Maps or Google Maps for offline use at the present time, but perhaps this will change down the road when their offline functionalities improve. However, if you'd like to look at the route ad waypoints in Google Maps format, just go to
Google My maps
, create a new map and then import the KMZ file. The KMZ file contains all of the relevant data to display the appropriate map icons in Google Maps.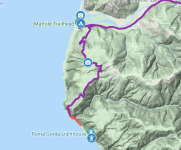 Last edited: